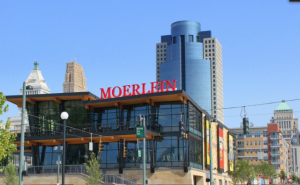 Being from Cincinnati, and with German heritage, it is easy to see why I was excited to visit this brewhouse, which almost exclusively brews authentic German recipes. Christian Moerlein has been brewing award-winning beers since 1853. What I found really cool is that the first beer to certifiably pass the strict Reinhetsgebot Bavarian Purity Law of 1516 was brewed by Christian Moerlein. The brewery brews authentic German beers.
BUt it ended up being not just the brews that were impressive, but the building and the food was equally above standards. Situated right on the Ohio river next to one of the best ballpark in major league baseball it is an ideal setting for a brewhouse. Here is a description from their website…
THE CHRISTIAN MOERLEIN BREWING COMPANY WAS BORN IN 1853, IN CINCINNATI'S OVER-THE-RHINE NEIGHBORHOOD. CHRISTIAN MOERLEIN—A BAVARIAN IMMIGRANT AND BLACKSMITH— LOVED BREWING HEARTY, EUROPEAN BEERS, AND HIS CRAFTSMANSHIP WAS REWARDED WITH TOP HONORS WHEREVER HIS BEERS WERE EXHIBITED. MOERLEIN'S BEERS WERE NOT ONLY POPULAR IN CINCINNATI, BUT THEY WERE COMMONLY EXPORTED TO EUROPE AND SOUTH AMERICA.

THOUGH THE CHRISTIAN MOERLEIN BREWING COMPANY CONTINUED OPERATING AFTER MOERLEIN'S DEATH IN 1897, AMERICA'S PROHIBITION PERIOD FORCED THE COUNTRY'S BREWERIES TO CLOSE. BUT IN 1981, WHEN THE MOERLEIN BRAND WAS REINTRODUCED TO CINCINNATI, THE UPDATED BEER WAS ON THE LEADING EDGE OF THE CRAFT BEER REVOLUTION. SOON, IT BECAME THE FIRST BEER TO CERTIFIABLY PASS THE STRICT REINHEITSGEBOT BAVARIAN PURITY LAW OF 1516. TRUE TO THE LAW SINCE CHRISTIAN WAS THE BREWMASTER, THE BEER CONTAINS ONLY FOUR INGREDIENTS: MALTED BARLEY, HOPS, WATER AND YEAST.

IN 2004, CHRISTIAN MOERLEIN WAS PURCHASED BY GREATER CINCINNATI RESIDENT AND BEER BARON GREGORY HARDMAN, WHO FOLLOWS THE SAME GUIDELINES OF TRUE QUALITY AND GREAT TASTE SET BY THE BREWERY'S FOUNDER: CHRISTIAN MOERLEIN. THIS COMMITMENT TO EXCELLENCE MAKES MOERLEIN QUITE SIMPLY A BETTER BEER.
It is worth the time if you are ever in downtown Cincinnati and are in need of beer and/or food. The ambiance itself is reason to go, not to mention the beer. Afterward take a stroll along the sprawling park following the banks of the Ohio, there are a few miles of paved trail meandering through playgrounds, and thick gardens.
[geo_mashup_map]