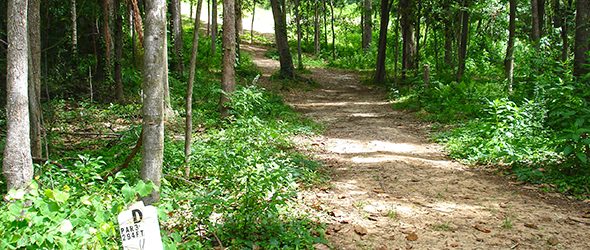 On my way to pick up Sharon from a week down south at her sisters house I had the chance to stopover at Tom Brown Park in Tallahassee to check out their trail system. I have read alot about them and was really excited to check them out for myself.
The park itself is impressive. Very well maintained. They have a lake, dog park, huge playground, paved paths, baseball fields, disc golf course (which I will return at some point to play and review). And of course the Magnolia Mountain Bike Trails. There are several small loops within the system combining for about 4-5 miles.
These trails were probably some of the easiest, yet most fun trails I have ever ridden. When I say easy it is because any skill level biker can ride them as they are smooth as pavement with very little elevation change. A more experienced rider can go fast and take some of the side trails they have designed as expert along the way. Those side trails were just minor detours, a hundred yards perhaps. They contained man made obstacles such as narrow, elevated boardwalks or high banked curves.
For example one of them, named "Wally World", consisted of a quick turn down a hill leading to a wooden banked turn that the faster you hit it, the higher up on the turn wall you could ride. It exited exactly where you started, allowing you to try it severals times to get your nerve up to go faster and faster.
Another section that was side trail, "Kudzu" flow track, was all down hill into a small ravine. It winded around and have several ups and downs, which if you had enough speed could really get air! It reminded me of the sensation of being on a roller coaster. And again exited at the same place you started so you could go again and again, testing your skill to go faster and higher each run.
There are options to connect to other trail systems outside the park, but time was of essence for me that day and I did not get to them.
If you are ever visiting Tallahassee, live nearby, or just passing down I-10 looking for a diversion from driving past the miles and miles mind-numbing pine tree scenery, I highly suggest you check it out.
[geo_mashup_map]