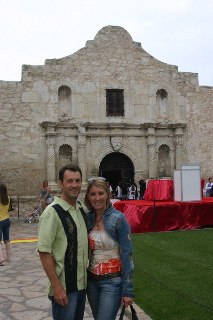 We did not actually stay in San Antonio but rather 30 miles or so west of it, at Medina Lake set deep in Texas Hill Country. This was our first true taste of being out west. Bandera a small town nearby hails itself as "the Cowboy Capital of the World". We were disappointed as there were no rodeos going on while we were there. A little restaurant Texarita's in Bandera was a neat little place to eat. Not the best food, but the atmosphere was great.
We hiked and biked Government Canyon, the biking was rough as it had some big hills, and the trails in the backcountry were too rocky for our liking. Overall it was a beautiful area to hike. There were both flat trails, and as stated before, rugged trails.
The Riverwalk in San Antonio is one of our favorite spots so far. San Antonio's Fiesta week was taking place while we were in town so it was a very lively fun time. Margarita's and salsa were the menu for the day. As any tourist would do, we too went to the Alamo. If you have never been there it will be different than you think being set in the middle of downtown San Antonio. Sharon and I did the obligatory photo of us in front of the Alamo. There was a history tour starting right when we got there so we tagged along to listen.

The speech the guide gave was inspired and passionate, he seemed very educated on the Texas version of what happened and that bias was felt. It actually made us a little uncomfortable as we sat with various numbers of people with Mexican heritage. The way he made it seem like it was the good guys, the Texans, versus the bad guys, Mexicans. And he let it be known the good guys kicked the bad guy's a**es eventually for the horrible acts they committed on our innocent brothers. I realize we were in Texas, but they could have toned it down a bit. The way he used the word Mexican was almost a racial slur. We came away feeling embarrassed for Americans and wondering what the real story was behind the Alamo and why it happened. It may have been Mexico's arrogance, or maybe the Texans were essentially stealing land illegally, I dont know, but there was no reason to make the speech so slanted against the Mexicans as it was to be a factorial history lesson.