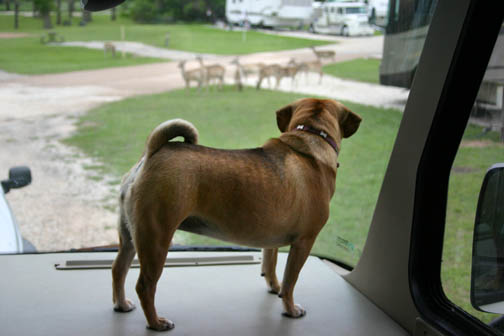 More photos from Columbus, TX >>
Okay, the first day was harsh, around 45º and rainy, we were bone cold! And yes before you say anything, we know we are whimps, we hate the cold, it sucks being cold!
Note to selves: Do not attempt to cook crab bisque soup while in motion :)
Columbus proved to be a very small Texas town. It was so small it had a regular, non-super Walmart! We headed out the first night to find a place to eat. The pickins were slim. Buffets seem to have been the rage in Columbus. We ended up at a chinese restaurant which turned out to have very good chinese food and no buffet. After dinner we wanted to go out and have a beer, we asked our server where to go and she referred us to the other girl working because, as she put it, "she's the drinker, she'll know". She pointed us towards the only place really to go to… Miss Molly's.
Miss Molly's was a country bar in a red barn just off the highway but away from everything. Sharon at first was wary that we would be too out of place since every car in the muddy parking lot was a truck. I felt that this was part of seeing America and it was all the more reason why we had to go in. As luck would have it there was a live country band playing, it was $3 per person, $5 per couple and $10 per family (Okay I made up the family price but thought it made it more funny). We were greeted at the bar by a sweet old lady collecting the cover charge. Once inside I felt like we just stepped onto a hollywood movie set for a country western bar scene. The bar was plywood and 2 x 4s with metal panels complete with igloo coolers for the beer, Texas memorabilia hung everywhere. The bar was full, there were mainly older stereotypical texans around the bar with cowboy hats. Damn I forgot my Stetson at the coach. The band was setup on a stage with a long horn steer skull hanging over it. The band was made up of exactly the same type of people around the bar. They were having some sound difficulties but still sounded good, periodically couples got up and did a little Texas two-step on the dance floor. People were friendly, a couple guys spoke to us and one guy even joked with us a few times. The bartender was an older short hispanic woman whom Sharon classified as adorable.
I was in the mood for an import beer like a Newcastle or a Turbo Dog but knew better than ask. I saw a guy with a Shiner Bock and figured it sounded good. Our beers even came complete with a coozie, that read "Alice & Aaron, 2004" Little did I know until I read the label that it was brewed in Shiner, Texas. And when I asked the bartender where Shiner was, she told me it was around 30 miles down the road and if we have the time we should really go on a tour of the brewery. That we will have to do for sure! We listenedd for a bit and drank a beer or two then headed out. People actually told us goodbye and wished us a safe drive. They were a very nice crowd at Miss Molly's and the couple at bar were very entertaining. There were acting like drunk teenagers giddy with the opportunity to "get-it-on". He was doing anything he could to be fun and charming so she would go home with him. It was one of those things where you did not want to watch because it was so embarrassing but you could not help to watch either because it was so funny. It just added to the entertainment value of the bar. We had a great time checking out somewhere off the beaten path.
NOTE TO TEXAS RESTAURANTS: Chicken is NOT a vegetarian dish :)