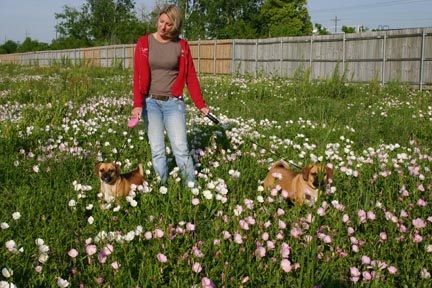 More photos from Beaumont, TX>>
I-10 is a mess from Baton Rouge to Beaumont, I thought for sure it was going to shake the Crusiemaster into spare parts. Somehow it made it through "The Gauntlet" in one piece. But inside was a jumbled mess. It gets amuzing when you here so much rattling and falling down behind you that unless it sounds like glass shattering it is not worth investigating. And a word of adice, after such a rough ride always open cabinets and refrigerators slooowwwly as contents may have shifted in flight and are just waiting to fall out onto your exposed TOE!!
The Gulf Coast RV park was a pleasant surprise. It had a free breakfast every morning that included Texas shaped waffles :) The park was paved, perfect for roller blading! Note: Remember to make Poma-ritas, and that everything in Texas is bigger.
I also got a kick out of a gas station attendant who was kind enough to help me out with directions to the local Wal-Mart. At the end of giving me directions, she told me "it's a big building with a blue Walmart Sign in front, you almost can't miss it." Bless her heart, she was just trying to make sure I found it. I think she thought I lived in the area and had never been to a Walmart before :)
This was a brief but enjoyable stopover before heading to the Colorado River Thousand Trails preserve in Columbus, Texas. We did find 2 shoes here, nothing special, but still more shoes to add to the collection which now stands at 59!