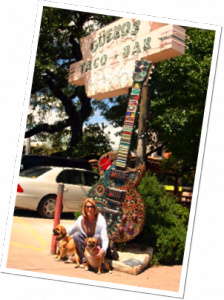 More photos from Austin >>
Arriving at the road leading to McKinney Falls State Park , Sharon and I witnessed something awful. We apparently saw a pit bull kill a small dog on the side of the road in a matter of seconds. We saw a guy break them up but we really could not tell what had really happened, but it shook us up pretty bad :(
After shaking that horrific scene we took the dogs for a walk around McKinney Falls State Park, our home for the next seven days. This is a really nice park! The sites are large and private, the roads are great and their our many trails to walk the dogs. We just checked it out briefly but will give a full report.
We were so ready to get downtown and check out the area restaurants and bars. We came across a paradise of cool places to eat and drink. The 6th street area was where we explored. Had dinner at The Iron Cactus and it was awesome. Make sure if you visit you are hungry or like me and love leftovers because the portions are big! But the food was gourmet mexican and delicious.We were fortunate to be sat next to the table where the Tommy Bahama Rum rep was preparing samples to give out, so we were feed a nice stream of tasty shots through the evening, eventully finishing off her shaker because she ran out of sample glasses :)
So it was time to find a good beer. We did not find a brewpub but rather the next best thing, B. D. Riley's Irish Pub. This was not what we would call an authentic Irish Pub, and barely an Irish Pub at all, but a nice place with a comfy atmosphere. They had Fat Tire on tap, which turned out to be the first time we found it on tap before and it did not disappoint. A very good Red Ale with big malt flavor. On the way into the bar we met the JetBlue marketing crew touring with Blue Betty. Blue Betty is a 34 foot Jetstream sliver bullet motorhome. A true classic RV. We spoke with one guy and told him our story, he asked "How long have you guys been on the road" our reply of "Almost 3 years" just about floored him, he could not believe we have been doing this for that long. I guess it seems weird when I think of it. We never expected to do it this long…but still having fun doing it. Seems tornadoes have struck again in close proximity to us in Dallas, I have not have a tornado dream/nightmare in a while but this will bring 'em back probably.
The Puggles got a day on the town as we went in search of a dog park. We all walked around the South Congress area where there was a pet parade that day we did not know about, which meant there were dogs all over the place. We had lunch at Zen and sat on their patio area with the dogs. The dog park at Zilker park seemed to elude us for a bit until we started just walking and noticed there were a lot of dogs off leash just running free in this one area of the park. So "when in Rome…" we set the puggles free, and they ran straight for the other dogs, the ran and played and had a great time. Eventually we asked someone if this was the dog park. Apparently it was, and it had no fences, just a large area to let your dogs play. This was unlike anything we had come across yet. I mean a large city park where dogs can go be let free! Unheard of in our journeys so far.
Note: The Austin Whole Foods grocery store could be made into a vacation destination itself.
Not far from the park we found the Thai Kitchen restaurant, it was a small non descript place that had great food! The other restaurant we went to was the vegetarian restaurant Nu Age Cafe on the NW side of town off of Exposition Blvd. It was wonderful. Everything on the menu sounded great, the Indian Curry dish was the bomb. On the way home from the restaurant we got a photo I had hoped so much for…a solo cowboy boot in Texas. Check out gallery 6 to view it. It will be for sure a favorite of mine.
I HATE passing up shoes, we passed up 2 today on the way to the Austin City Limits guide shop. Which closes at 5:00 and it was 4:30 and counting. We had trouble finding parking and then went to the wrong building, we just made it 5 minutes before it closed and were able to get Mickey his t-shirt and get a bonus. The security guard for the studio was standing by us when we bought the shirt and I asked him "where do they record the show?" "On the 6th floor of this building, and if you are around tomorrow we give tours on fridays." We explained we were moving on and were not going to be in town. He replied "I tell you what, go to the sixth floor, take a left and Ill show you the studio." We were so lucky. He showed us the studio and the stage. We did not run to the stage and play air guitar like so many others he told us. We were in awe. It seemed so much smaller and intimate. What we would not do to actually sit in on a taping. But this was cool. Thanks to you mr.security guard!
McKinney park was such a great place to spend time. Close to Austin (10 minutes) and yet feels hours away. The falls were gorgeous, the trails were great, the campground was perfect. We cannot wait to get back there to do a One Shoe Diaries exhibition in Austin! Next Stop — San Antonio.