In October 2004 my wife Sharon and I lost our residence on Pensacola Beach to Hurricane Ivan. Instead of treating it as a disaster we made this an opportunity for us to pursue our dream of traveling the U.S. in a motor home. During our adventures we noticed numerous lone shoes sitting on the side of the road. We began to get intrigued by how many there were, and the fact that each of those shoes had to have belonged to someone, but who? Were they male or female, young or old, rich or poor? How did it end up alone on the road? The inherent mystery tied to these images is the untold story of each shoe, the viewer cannot help but create that story in their mind.
So what we have decided to do is catalog the shoes we come across through photographs. Hence the birth of the One Shoe Diaries™. The shoes are left in their original state, we do not alter or move them.
Their locations are plotted in GPS coordinates, then logged onto a goggle map for others to perhaps go see if they still remain where we found them. We hope you enjoy our ever-growing collection of shoes and the stories they portray for you to interpret.
The highlight so far for us was the 4 minute interview/highlight involving the us and The One Shoe Diaries produced by the CNN news show, "News to Me" You can view the video using the link below. Since then we have also be featured on CNN.com in the iReports section. We were very honored to be featured by them and more than appreciate the exposure.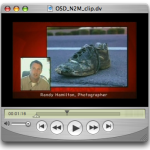 View the CNN Video >>
CNN iReport Feature >>
About the Books >>
Artist Statement >>
About the Artist, Randall Louis Hamilton >>
News and Media Exposure >>